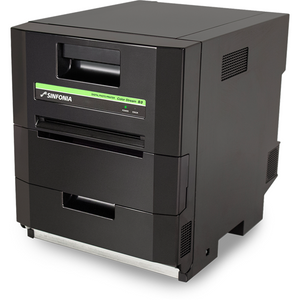 Sinfonia / Shinko S3 Color Stream 6" High Capacity Digital Dye Sub Photo Printer
The Sinfonia S3 is the next generation of legendary printer S2145. The S3 offers super high-capacity, stunning print quality, and incredibly fast print speeds! Its lightweight design enables you to use this printer for your photo booth, ID system, mini kiosk, event / photo, amusement and theme park photo, etc. The S3 printer will produce 4"x6" prints, and 6"x8" prints with the ability to produce 2"x6" strips cut from a 4"x6" (perfect for photo booth applications). The Sinfonia S3 printer has a capacity of 900 prints for 4"x6" media minimizing the media replacement process and saving you valuable time. The Sinfonia S3 printer will produce a standard 4"x6" print in 11 seconds which is sure to meet the onsite demands of virtually any event. 


Print Method - Dye Sublimation Thermal Transfer
Resolution - 12 dots/mm (300 dpi)
Paper Size Capacity -
152 mm (6 in.) width roll paper for print
900 sheets/roll (for 4 x 6 size prints)
450 sheets/roll (for 6 x 8 size prints)
(Same as each printable size of dye-sub print.)
Print Sizes -
51 mm x 152 mm (2 x 6 in)
102 mm x 152 mm (4 x 6 in)
152 mm x 203 mm (6 x 8 in)
6"x6"
Print Speed -
Approx. 10 sec per 4x6"
Approx. 19 sec per 6x8"

Operating Temperature - 10 to 35 degrees C
Operating Humidity - 20% to 80% (RH) (There must be no condensation in both cases)

Paper Feeding - paper feed (Roll to Cut method)

Ink Ribbon -
4 x 6 size ink ribbon, 900 images/roll
6 x 8 size ink ribbon, 450 images/roll

Dimensions -
290 mm (W) x 375 mm (D) x 345 mm (H)

Weight - 15 kg(30.0 lbs) or less without media

Interface - USB 2.0

Power voltage - 100 to 240 V AC (Automatic switching)

Power consumption -
Less than 165 W / 1.8 A at 100 V AC
Less than 165 W / 0.8 A at 220 V AC

Buffer Memory - 32MB
See brochure for more info:
https://www.sinfoniaphoto.com/products/s3/