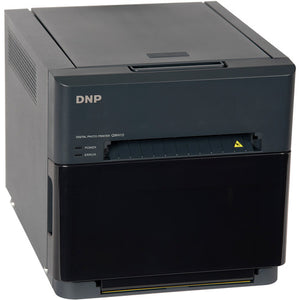 DNP QW410 Compact Dye Sub Photo Printer
Media (PAPER and RIBBON) is not included.


The QW410 dye-sublimation photo printer is the perfect printing solution for photo booth operators, event photographers, and ID photo solutions. From studio shots to off-site events, the compact & lightweight QW410 can be easily transported from studio to event and back again!
Compact and lightweight 
The new photo printer ranks among the most compact and lightest printers available in the global market today. Weighing in at only 13lbs and it's compact size of only 8"W x 7.75"H x 9.5"D, the QW410 is perfect for mobile photo booth operations! The new photo printer is our smallest and lightest printer to date. 
Flatter prints
The QW410 is equipped with an innovative mechanism that reduces the curl of the print, even while maintaining a smaller, compact footprint. The lay flat printing function will switch on automatically depending on the paper count left on the roll.
Proprietary 4.5-inch print head width
The new printer employs a proprietary 4.5-inch print head to allow consumers to now print 16:9 wide-ratio photos. By eliminating the need for cropping a wide format image down to a traditional 3:2 ratio (4x6" print) the consumer can preserve the whole image.
Energy
The photo printer reduces power consumption by approximately 28% compared to the DS-RX1HS, approximately 35% compared to the DS620A. As a result, battery-powered operations can be extended for a greater period of time.
Wireless Ready
With the optional wireless dongle, easily print from Apple®, Windows®, iOS®,or Android® devices! 
Features
Ultra Compact and Lightweight - Weighing in at less than 13 lbs, it is now easier for anyone to carry this printer from event-to-event. Its small size allows you to carry it in standard shoulder bags.

Innovative Print Sizes - The QW410 4.5" printhead and superior electronics and mechanisms allow for many print sizes for more fun and enjoyment for your customers. The QHD 4.5x8" Pano Print media allows for a unique print size, without the need for cropping for 16:9 high definition aspect ratio shots, for example. It can also print many other sizes and aspect ratios to give you options that can make your event unique and fun…like 2x4", 3x4", 4x4", 4x4.5", among others.

Lay Flat Function - Equipped with an innovative mechanism that reduces the curl of the print, if needed. This function will switch on automatically as needed, or you can control it yourself.

Supports External Battery - This printer has big energy savings…it uses 35% less energy and allows for battery-powered operation that can operate an entire event!

Wireless Ready - With DNP supplied wireless options, the QW410 is compatible with the mobile and wireless world, supporting macOS, iOS, and most other Wifi operating environments.

DNP Quality - The QW410 may be small, but it delivers big on DNP photo quality color prints, the quality you have come to expect from DNP.

 

Media (PAPER and RIBBON) is not included.