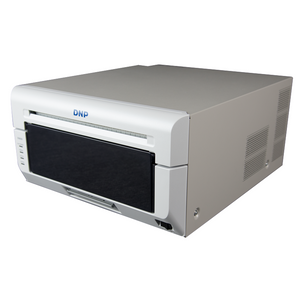 DNP DS820A Professional Dye Sub Photo Printer
DOES NOT INCLUDE MEDIA (PAPER AND RIBBON)
DOES NOT INCLUDE PICTURE CATCHER TRAY
The DS820A can print standard 8 x 10" and 8 x 12" prints, and prints as small as 8 x4", but it can also produce panoramic prints 8 x 18", 8 x 22", 8 x 26", and 8 x 32"
The DS820A can also produce stunning 8 x 18", 8 x 22", 8 x 26", and 8 x 32" panoramic photos printed from DNP's 8"x10" or 8"x12" media. To enable panoramic printing, the user must be printing through Windows only using DNP's Hot Folder Print (HFP) Utility v2.5.1.9
Panoramic prints use standard DS820A media.
Best-in-class Warranty
DNP offers an out-of-the box 3-year Advanced Exchange (AE) Extended Warranty as an end user support program. That's a $399 value at NO COST and a guarantee that we believe in the quality of our products!