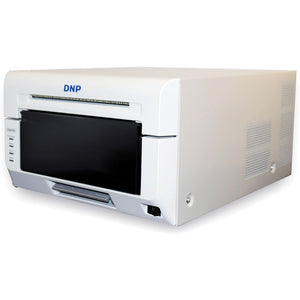 DNP DS620A Dye Sub Photo Printer
DOES NOT INCLUDE MEDIA (PAPER AND RIBBON)
With its wide range of print size options, quick output, and innovative print technology, the DS620A is an extremely valuable revenue-generating asset for photo booth operators, professional photographers, and retail store operators offering photo-printing services.
Standard Print Sizes:
4"x6" (and two 2"x6" strips) 
5"x7"
6"x8"
The DS620A produces stunning 6"x14" and 6"x20" panoramic photos—printed from DNP's 6"x8" media. To enable panoramic printing, DNP's DS620A printer must be running (v1.52 or later) version of the DS620A firmware and printing through DNP's new Hot Folder Print (HFP) Utility (v2.2 or later).
Panoramic prints use standard DS620A 6"x8" media to produce
6×14 size prints use the equivalent of 2 6×8 prints worth of media
6×20 size prints use the equivalent of 3 6×8 prints worth of media
*When printing pano prints the printer will print the image in sections and the paper will exit and rewind into the printer several times before being cut. Standard and enlargement print trays cannot be used.
 At only 10.8-inches wide by 14.4-inches deep by 6.7-inches high, the small footprint allows for easy transportation and stacking with additional printers for high output functionality making it the ideal companion for photographers who want mobility, speed and volume.

The DS620A boasts a 14 percent increase in image throughput per hour for some of the fastest print speeds available—standard 4"x6" images are produced in less than nine seconds, while 5"x7"s are printed in about 15 seconds.

Energy consumption and media waste have been optimized in the DS620A. A new standby mode lowers costs and increases profitability by making the most efficient use of energy (<0.5W).

All DS620A printers are available with a three-year Advanced Exchange Warranty at purchase.
MEDIA (PAPER AND RIBBON) IS NOT INCLUDED.