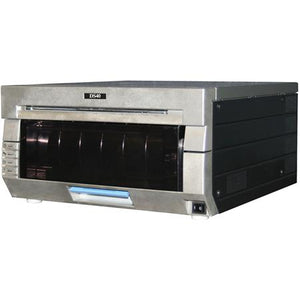 DNP DS40 Photo Printer (Refurbished)
These printers have been refurbished by DNP and come with a one-year warranty from DNP.
It comes with the power cord only.
It does NOT come with:


USB cable


Print catcher tray (PLASTIC 4x6)
5x7 Spacers

The DNP DS40 printer was DNP's predecessor to the DS620a

Compact Form Factor approximately 1.25 square feet.
6 inch printer
Weight is approx. half that of most 6 inch dye sublimation printers..
Fast Print Speeds and high Quality DS40 has native print speed of approximately 7 seconds per 4X6 print or almost 500 prints per hour, depending on media size used (subject to software overhead).
The DS 40 can cut two 4x6 prints out of 6x8 media, as well as dedicated 4x6 or 5x7 prints using relevant standard media.
Proven manufacturing heritage.
Front loading, roll fed.
Lower total cost of ownership (only $0.20 per 4x6), resulting in higher ROI and quicker payback.
Great for Photobooth owners, manufacturers
Resolution: 300 x 300 dpi, 300 x 600 dpi
Print size: 2-2x6 (on 4x6), 4x6, *5x7 (Spacers required), 6x8, 6x9
Print speed: As fast as 7 sec /print (4x6)
Paper: 400 Sheets Roll (4x6), 230 Sheets Roll (5x7)
Power: AC100-240V, 50/60 Hz, Max 3.96 AMPS
Dimensions: 19. x 17 x 12in.