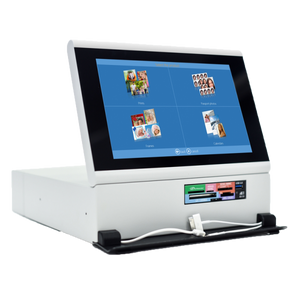 DNP DS-Tmini 10.1" SnapLab order terminal
The DNP DS-Tmini is a portable order-terminal of 10.1" that offers a user-friendly interface and practical touch technology. The many features of DS-Tmini make it ultimately ideal for photo retailers or event photographers.
COMPACT DESIGN
PLUG & PLAY
EASY-TO-USE SOFTWARE
ORDER MANAGEMENT
WIRELESS/WIRED
Perfect for smartphones with both wired and wireless connectivity, just plug and play! You can now create amazing value-added products such as photo books, calendars, or greeting cards.
Panorama printing is supported for DS620 and DS820 printers.
Compact when it's folded, bring it everywhere!